For a business to be successful, it needs to have a strong brand identity. Customers might check out the product or service but what they remember is the brand and the user experience it provided them.
But what does this mean exactly? Customers prefer doing business with dependable companies. Therefore, it is vital that you have a memorable brand image and a consistent tone that your customers recognize and trust, no matter the size of your business.
Email marketing is all about establishing a trusting relationship with your audience. It is also an excellent medium to nurture your subscribers and build brand awareness. By using consistent branding across your email campaigns, you will see loyalty levels increase.
This article will explore the best ways to build a solid brand image for your email marketing campaigns - and drive conversions while you're at it.
Branding in Email Marketing: 4 Ways to Drive Conversions
Forming a marketing strategy that involves your brand identity is essential, and email is an ideal channel to achieve that. Here are four practical tips to improve conversion rates by incorporating branding in your email campaigns.
1. Have a consistent email template
The human brain is exceptional at pattern recognition. A consistent pattern across your email marketing campaigns can build a stronger connection with your audience and make your campaigns more memorable and effective.
Top email marketing services like Klaviyo and the most popular Klaviyo alternatives allow you to create eye-catching email templates that match your brand identity. Moreover, most email marketing platforms have a minimal learning curve.
These tools feature user-friendly drag-and-drop email builders, allowing even marketing beginners to create beautiful templates in minutes. These templates are built with easiness of use in mind and are fully customizable to fit every business's needs.
Refer to the standards of your brand and use your logo and color palette properly. Consumers will recognize your emails right from the logo design and your trademark colors, and they will be able to connect your products with your company. Letting them know what to expect from the communication with your brand is the first step to staying top of mind.
2. Align images with your brand colors and style
The human brain processes visual information faster than other types of information. That is why visuals in marketing efforts tend to perform better in terms of engagement. To make your campaigns more effective, you must include eye-catching photos, illustrations or graphics.
However, you can't just randomly choose images. The optical components of your email should match your brand's color palette and style or fit your email campaign's purpose.
One of the greatest mistakes marketers make when designing emails is choosing an image that doesn't correspond to the campaign or branding. Instead, your image choices must be impactful and provoke an emotional response.
So, pick your visual elements wisely, whether it is an infographic or a product demo video. Finally, keep a consistent overall style so that your email campaigns are not entirely different from each other and your subscribers know that the email they are reading is from you.
3. Establish a brand tone and voice
Email copywriting is as important as the design. While both constitute integral parts of an email, most companies focus more on the layout and underestimate the copy. Visual elements might be attention-grabbing and engaging, but your copy is what will get the message across.
Depending on the nature of your business and your brand's values, you need to establish an identifiable brand tone. You want your messages to be on-point and speak to the heart of your audience. And we can't stress this enough: consistent.
For instance, it might be best to stick to a professional tone if you are in corporate consulting. But a fun and engaging tone will work best if you are an eCommerce-oriented business. Moreover, simple and friendly language will allow you to lower the defenses of your audience and communicate your message on a more personal level.
Finding your brand voice and sticking to it is significant in the long run, especially when it comes to turning your customers into loyal brand ambassadors. Many successful businesses rely on word-of-mouth marketing, so getting customers to trust you is half the battle.
Pro tip: If your brand guidelines allow it, employ an entertaining voice while showcasing the value of your emails right away. The email marketing space is very crowded, so you want to set your brand apart from the competition. You can even go the extra mile and name your newsletter to offer your customers a complete experience.
Finally, pay attention to your email calls to action (CTAs). Use active and straightforward copy. You can also experiment by A/B testing different CTA variations until you figure out what yields the best results.
4. Include social media buttons
While social media buttons are not something unique or new, they are crucial for brand awareness across several platforms. Make sure to add social media links or buttons at the bottom of your emails to allow your customers to reach and follow you on social media platforms. Alternatively, you could place them closer to the top of your campaign emails if your brand relies heavily on social media.
Here is an example of how Casper does it: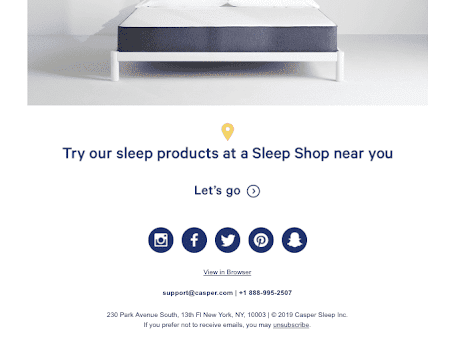 Engaging with your customers across multiple channels benefits your business since it familiarizes people with your brand. Moreover, this is also an excellent way to improve your brand's image through customer success stories and testimonials. That's because most consumers rely on customer reviews before purchasing from a brand they have yet to interact with. Social media gives users a place to share their experiences with your brand.
However, do only what is necessary with your social media marketing. Conduct market research and study your buyer personas to check which platforms best serve your marketing objectives. There is no use in focusing your efforts on Facebook promotions if your target audience is hanging out on TikTok.
Takeaway
Branding in email marketing helps you build a holistic strategy with multiple benefits for your business. Email campaigns can incorporate everything your brand stands for, from signature imagery to tone. Those elements will set you apart from your competitors.
Remember that your brand is more than just a business image. By applying the tips above, not only will you improve your conversion rates, but you will also render your company memorable and create long-lasting relationships with your customers.
The opinions expressed here by Guest Contributors are their own, not those of Rise Marketing.