When attempting to boost your website performance, take into account that you must consider a variety of elements at the same time. In both business and digital marketing, we have a tendency to focus solely on one or two key things while overlooking something else that could be just as significant. It requires more than SEO to improve your ranking in the SERPs. You must also ensure that your website is well-designed, or you risk wasting all of your organic traffic.
Many individuals don't know how well web development and SEO work together. Their elements blend and move together so effectively that, if executed properly, your site users should not observe anything you have done; they should simply begin surfing through your website. So, what are the aspects of web development and SEO that work together? Take a look at these five ways of how they go together.
1. Website Design with Enhanced Readability
If you've been focusing on boosting your SEO or discovering the website SEO best practices, you've probably spent considerable time thinking about content on your website. Some people may not know how much of an impression a website's design has on your content, or simply how it is presented. Website visitors may be unable to read what they came to your website for due to poor website design.
Any traffic that you managed to draw onto your website is practically obliterated by web pages with blocks of text in weird places and far too many hyperlinks that don't provide a clear function. What good is it if no one can acquire the information they need? You've undoubtedly been on a website with text that was difficult to read due to the website layout. It may have been a light color on a white background or a dark color on black. Such designs harken back to the often-dreadful websites of the mid-to-late 1990s.
However, color isn't always the problem. It's also possible that the text is excessively huge or small, or that it's published in a difficult-to-read font. Visitors will rapidly leave websites that are hard to read on any gadget or desktop, just as they will abandon websites that are not mobile-friendly. Website developers learn how to build websites that make it simple for visitors to consume your content, ensuring that you get the most bang for your buck. White space, line length, and any additional features like graphics can all influence how users interact with your website.
Also, keep in mind that persons with disabilities should be considered while choosing a web design template. For instance, see the below screenshot of the website template for CityLocal Pro, which is a business directory and marketing consultant company. It can help you connect with your target audience while also helping you surpass your competitors. You have the ability to transform your website and business. All the colors and fonts are incorporated in an efficient manner to increase the readability of the content.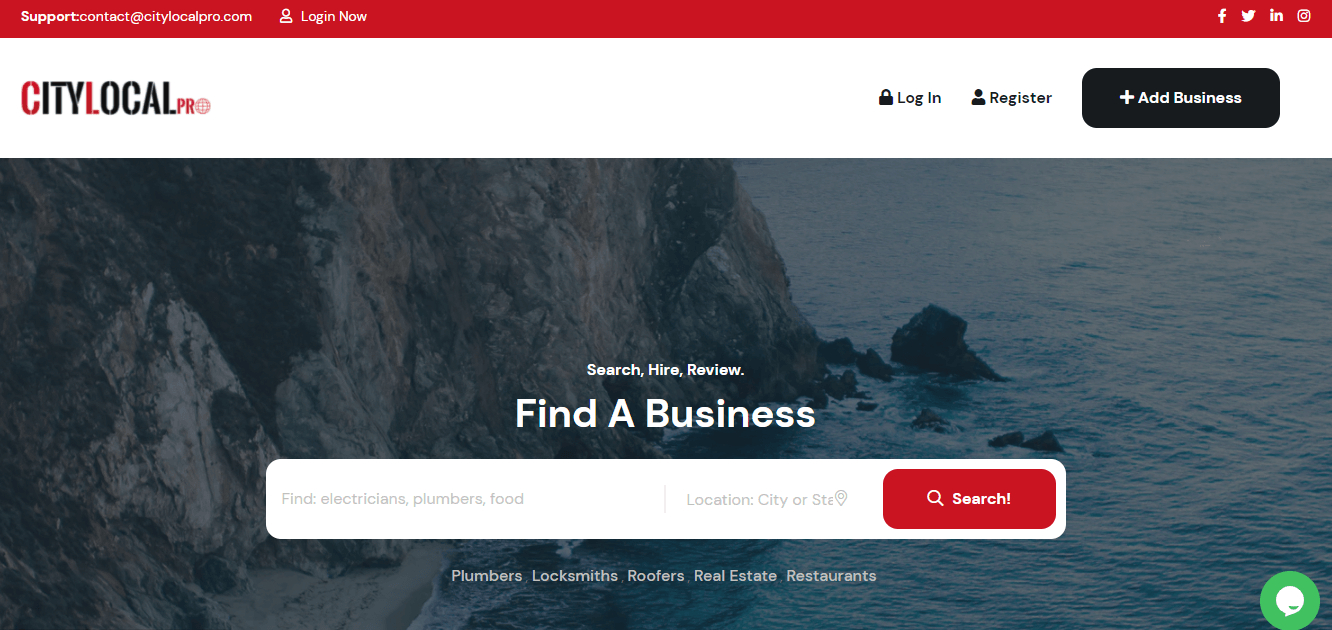 Also read: Web design affects content marketing strategy
2. Mobile-Friendliness is Important
Anyone with even a vague understanding of web development and SEO should be aware of the importance of a website that is mobile-friendly. In fact, if you haven't taken the effort to do it yet, you're already several years behind. In 2015, Google adopted mobile-friendliness as a website ranking factor. That was more than six years ago. In 2017, the search engine giant launched mobile-first indexing. Although it's evident that Google values mobile-friendliness, many companies have yet to catch on.
For several years, the number of individuals browsing on desktops and laptops has been falling, while the percentage of people browsing on mobile devices has consistently increased. Mobile devices account for more than half of all website traffic, which indicates that more than 50% of your audience is probably using their phones to make product or service purchases.
You could end up alienating half of your visitors by not having a mobile-friendly website. That is enormous. A high bounce rate on a website caused by it not loading properly on a mobile device may send negative signals to Google, and therefore, your rankings may suffer as a result. So, it is one of the website SEO best practices to make your website mobile-friendly.
3. Website Loading Time
Do you know just what is slowing down your website? It's possible that it has something to do with your website design. Among the most significant components of web development and SEO is website loading time, which is a major flaw for so many websites. If your website has not been ranking well, it's possible that your website is simply too slow, causing visitors to leave quickly. Remember that loading time is a proven ranking signal, so spend time optimizing your images, removing unneeded plugins, enabling browser cache, and so on to speed up your website.
Now, you may believe that your website loads fast enough, but you have no clue how long visitors are patient enough to wait. Your website should load in two seconds at the most. When your site takes longer than three seconds to load, up to half of your visitors are likely to leave and move on to another competitor. On mobile devices, website speed is even more crucial because users are less willing to wait. Not only are users concerned about loading time, but Google is as well.
Google's capacity to crawl your website is influenced by its speed. You won't have as many web pages indexed if your website's loading time leads Google to crawl fewer web pages. It will be difficult for these web pages to rank at all if this happens. Moreover, the use of "HTTPS" encryption to ensure website security is also required. In short, increasing your website's loading speed is one of the website SEO best practices you can adopt in your strategy.
4. Create Appropriate Title Tags
Users click on title tags from the search engine results page. They're also the page's title and among the most crucial sources of content information. The title tag is the most prominent and visible element in a search result, and so it plays a significant role in a searcher's decision to click on your website or not. You can use a variety of strategies to transform title tags into powerful web development and SEO strategies.
Since limited characters are normally presented on the search engine results page, all significant information regarding website content should fit inside 65 to 75 characters. Of course, titles can be lengthier, particularly if there's a compelling reason for it. A general piece of advice is to keep titles short by using an ellipsis. Incorporate keywords in the title, or even better, begin with them. Keywords describe the content of a page and assist search engines in determining which pages to display in response to a user's query.
However, it's critical not to include too many keywords, and to arrange them as close to the start of the title as feasible so that search engines don't flag the title as spam and viewers have a clear sense of what they may learn by clicking the link.
5. Focus On Sitemaps
When it comes to crawling your website, efficient web development and SEO practices can aid in a variety of ways. A sitemap is an important component to have in play if you want search engine crawlers to crawl your website more efficiently. Your sitemap gives search engines a map of each of your web pages and content.
This allows you to inform search engines which pages on your website are the most significant. For bigger websites, and also newer ones that may not yet have any external links, this is a very critical aspect. Sitemaps not only help search engines, but they also help users navigate. A new user on your website can use the sitemap to find their way around. Sitemaps also provide vital metadata about your web pages, which can help them rank higher in search engine results.
How to Improve Your Website Through Core Web Vitals
Based on real-world usage data, the Core Web Vitals report illustrates how your pages perform. Beginning with the Chrome User Experience Report, Google has included Core Web Vitals into several of its key tools for developers and publishers. This report gathers real data from people as they surf the internet, then delivers it to developers via Google Search Console and other tools. Core Web Vitals for your websites can be seen in Google Search Console.
The information from the Chrome User Experience Report is used by Google Search Console to highlight your problems on your website. Core Web Vitals has been incorporated into Google's search algorithm. The page experience upgrade should be fully implemented by August 2021. Optimizing your LCP, FID, and CLS could have a good impact on your users as well as your mobile search results page ranks. Even a one-position rise on the first page of the search results can lead to a significant increase in traffic.
Also Read: UI/UX Role for SEO in 2021
Final Thoughts
Web development and SEO work best together. Enhancing your website design does not have to be complicated. Keep these tips and website SEO best practices in mind while you create your website. You might just start seeing those higher ranks you've been after.
The opinions expressed here by Guest Contributors are their own, not those of Rise Marketing.